Teller adds, "I chew my nails; it just looks gnawed. Not a good look for a close-up. So some of that stuff I think Damien actually did because Damian's a really talented drummer. But yeah, I mean, I learned all those songs, that's all my audio."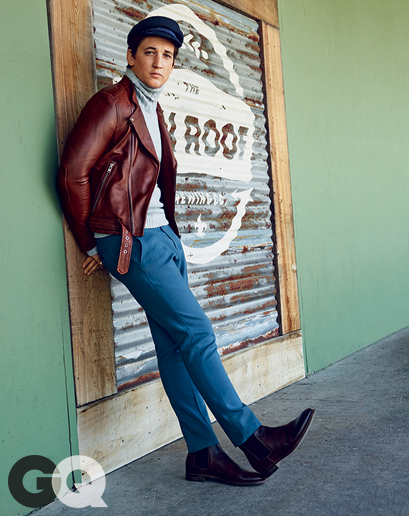 Miles Teller Wears Leather Jackets for GQ
Linking up with GQ, Miles Teller discusses working with J.K. Simmons on Whiplash. "J.K. is such an incredible actor," says Teller. "We have very similar styles—we can go into a scene, and it can be really intense and this and that, and then as soon as it's done we can make a joke. It kind of breaks the tension."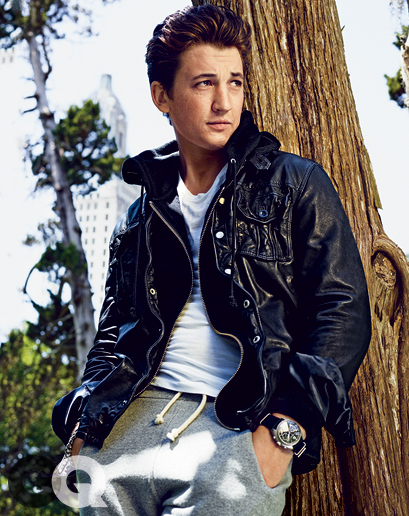 Miles Teller Discusses Whiplash
Right: On a stroll, Miles Teller sports an ASOS suede leather jacket with a Dolce & Gabbana shirt. The actor also wears Closed pants, a Kaufman's Army & Navy pocket square, and AllSaints shoes. Photos: Dusan Reljin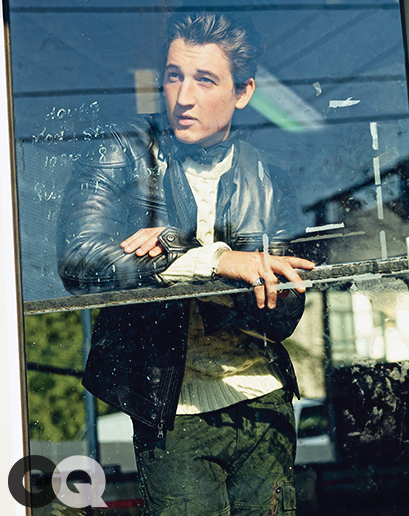 Did Miles Teller Get Slapped in Whiplash?
Miles Teller recalls when Simmons assaulted him as part of the film. Teller explains, "I mean, when he slapped me in the face, we first tried to film it where he wasn't actually slapping me, and then we watched it, and they said, 'That doesn't look right. Miles, would it be OK if he actually slaps you?' And I was like, 'Yeah!' Then he started to slap me. And he did the first two times; I just started laughing in the middle of it; it was just so bizarre."
Did Miles Teller Play the Drums in Whiplash?
A style muse for the day, Miles Teller inspires in a wardrobe of trendy leather jackets. Teller wears leather jackets in various fits and colors, ranging from black and brown to tan. Meanwhile, featured brands include Massimo Dutti, H&M, ASOS, Guess, and more!Miles Teller takes the spotlight for a new photoshoot. The Whiplash actor connects with GQ magazine for its September 2022 issue. Dusan Reljin photographs Teller for the men's fashion bible, taking to vintage-inspired sets for the modern feature.